Ever wondered why the school stadium is as big as our national stadium? Apparently Michigan is so small the population goes up by 75% every football saturday.
Granite M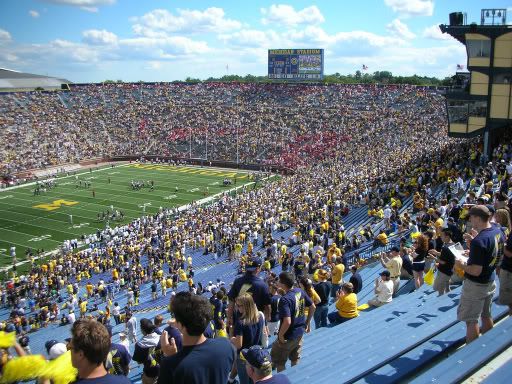 Stadium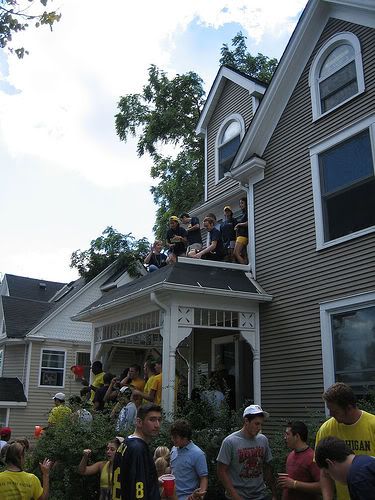 For those who are interested in what frat houses look like. Maybe I'll take a photo from inside one day. snicker snicker*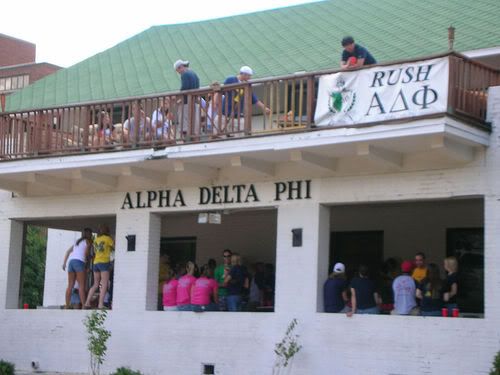 Frats are overthrowing the school!!!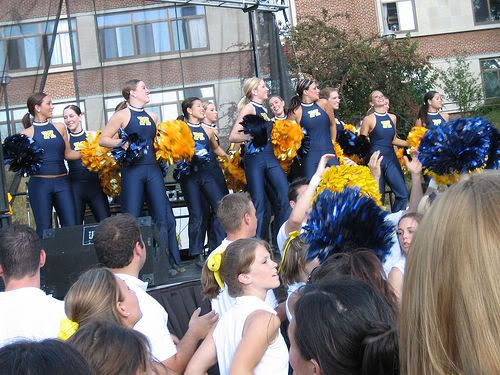 Cheerleaders aren't as pretty as I thought they'd be. But Heck....they're still cheerleaders with pom poms and short skirts...so here they are...




At the maize craze - somewhat like an ang moh CCA fest.




Maize Craze from far




For those who are interested in how my room looks like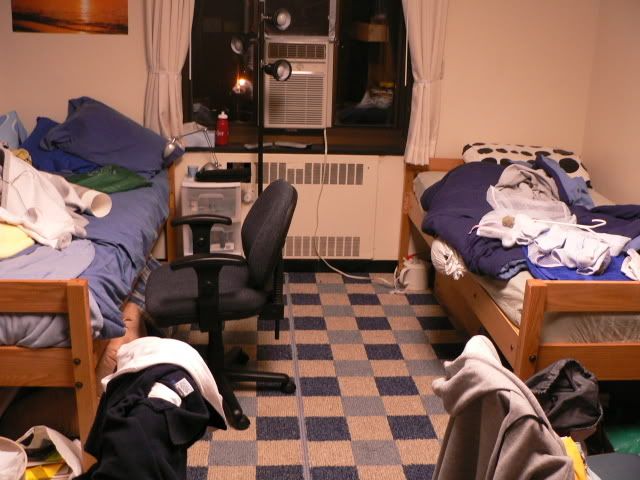 I walk along here everyday and get pounced on by all kinds of people. There was one night i woke up at 2am there was this ang moh girl who shouted HEY WILSON! and flashed her panties at me. So funny. hahahaa =p

Ok, there was a 20 min break btwn the last paragraph and this because a neighbour stopped by for a chat. Jewish russion born in Ukraine and came from New york. Really interesting. Anyway, on to more pictures of Ann Arbor.




Law Quad




Art Museum where there was a band playing there that night. Some ulu band I think. AA is such an ulu place that no proper bands will come here and play. yeah. Singapore is damn high tech compared to this place loh. Like even the HDB lifts are newer than the lifts here. Just that no one spits or pees or throws cigarette butts into the corner of the lift.




Random Sunset...see that borders sign on the left? It's supposed to be the first borders ever. Yes. The money sucking bookstore came from this money sucking place. Can u believe that a stupid textbook can cost 90 USD? I'm not gonna say which because the professor conducting the lesson wrote it and I dun wanna get a F for the subject. Sheesh. They can just all go eat shit and die.




And thanks to the singaporean association here, we have our Mid Autumn Festival!!! Lanterns n a mini mooncake! Woohoo!




Me and one heck of a cool girl man. She actually managed to make it into the ang moh rowing crew! Power!!! Not to mention that she can actually bench more than me and went through OCS which I didn't. Haha. Oh well...that's just life.




Just one last departing picture of our last karaoke session. hahahaa...kewl....