Heya guys!!! It's finally picture time again!!! Just had two important midterms this week. Spent so much time in the library my ass and back hurts from sitting down too much. Going to play badminton later. Some exercise finally. yay!
Pity I didn't wake up earlier today, there was this mud bowl thingy where the ang moh girls and guys will all spray the field wet and make it really muddy and start playing around in it. Brought my camera out but it was too late. Oh well. Mebbe next time. HaAHAa...for now i will try to catch more nice korean and japanese girls on campus. Guys in the halls! Post PICS!!! Where are all of u!!!??? hahaaa......
I shall first continue with another tour of my kampung, i mean campus. It's so damn ULU here!!!
I shall begin with the state of the art facilities we have here, the 1.5 storey high neon light signs! Wow! It's so tall!!! and the lights are so pretty! They look just like a scene out from an american movie in the 70s....
They have shows like kill bill, not kill bill 2, but yes, the earlier version that even scv refuses to broadcast anymore. And bcoz that's already a relatively exciting movie, it's pretty packed when shows like this come on.
This is the Michigan theater, the other one on campus. yup. They charge like 5 usd for a movie, they show stuff like march of the penguins...what our science centre omni theater will show. just that it's not as high tech. haha....eh, what am i talkin about? They have such big screens! Wow, it's amazing! The pictures are moving! Look look! there are moving penguins on the screen! Amazing! woohoo! Technology is so wonderful...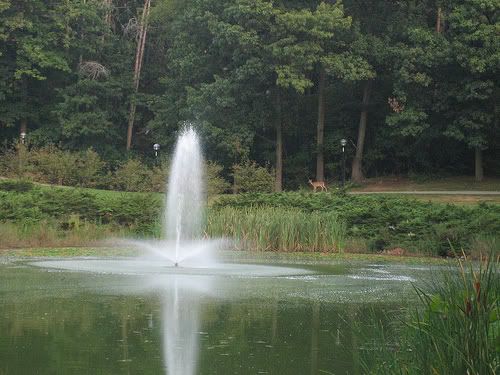 Look at this picture carefully...no, U will not be tricked to see some hantu in the background that will scare the hell outta u. There's a nice looking little deer at the background that we had for dinner last saturday. Pls do not be mistaken, this is still part of kampung. Yes we have deer running around the campus. I must say squirrel meat is more tasty though. hehe.
Look at how sad the doggy is after I ate his squirrel friend. haha. This is at river huron if i'm not wrong, pictures courtesy of my super cool friend who's on the crew team, this is where she trains everyday.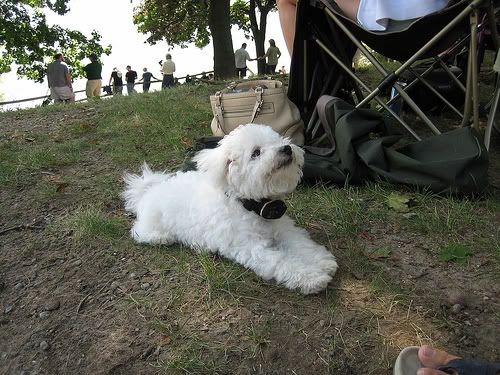 Today I heard something really funny from this american girl I had breakfast with. "All these people are so stupid! I wonder how they got in here in the first place!?" Hahaaa...my sentiments exactly. Sometimes u see the things they do in the kampung here ah, u wonder if they have shite for brains. But then again, not all the ang mohs are stupid, some of them are brilliant, especially the competition for bsch. woohoo...scary man. Doesn't fall behind nus and ntu by any bit.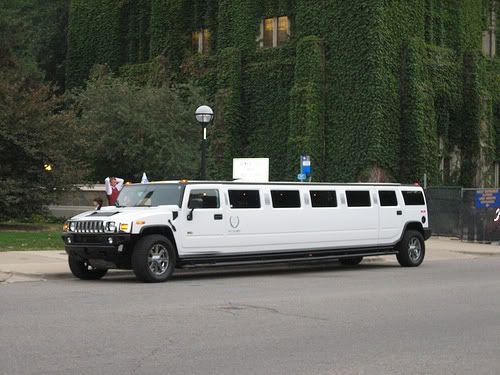 This is an example of one of the stupid things pple do there. The sorority girls will dress up really pretty and rent a limo like that and stop at traffic junctions and start horning really loudly as they drive along the street and get everyone to open their windows and start to curse and swear at them. Attention deficit bunch of people. Grow up...
Ok, I shall break up this entry from another coz it's a totally different thing for me to bitch about. haha....