okie... my turn to contribute... haha... tink itz really nice to drop by here once in a while and post stuff/read entries etc... helps busy students like u and i relak abit? :P
okie... this incident happened soem time ago during one of our lab practicals... usually, our lab practicals involves preparing some stuff, putting the stuff into some machine, and waiting... waiting... waiting... so me and my OG mates would start crapping arnd and do lame things to entertain one another... Anyway, we were doing this lab where we had to prepare a bacteria culture and incubate it for a loOng period of time... we were sitting arnd with nothing else to do (as usual), when this fren of mine suddenly produced another "fwen" for our entertainment...
yupz... "he" was created using one of the latex gloves we were wearing for the pract... darn lame lah, but it was really funny at that time, cuz no one was expecting smth lydat? looks kinda real yeah? :P posed wif the bugger and took fotoz using my fone...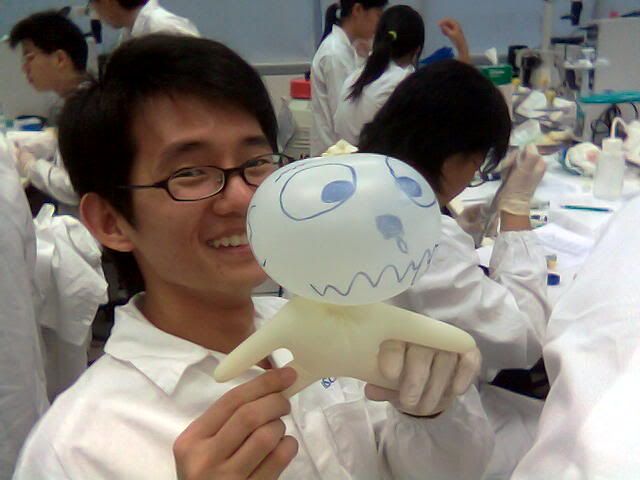 these are 2 of the lamest ppl arnd, but they're kinda cute in their own ways lah... the "taller" gal's arnd my height... observe how much she has to bend down to take the foto... muahaha...
hmM... the entire entry was posted in a spate of lamenesS, and is not meant in anyway to "jab" at anyone in particular. ok... i'd betta get back to my work le... lol